Looking like an amphibious mudskipper, this is the Rover-BRM Gas Turbine at the Le Mans test weekend in 1963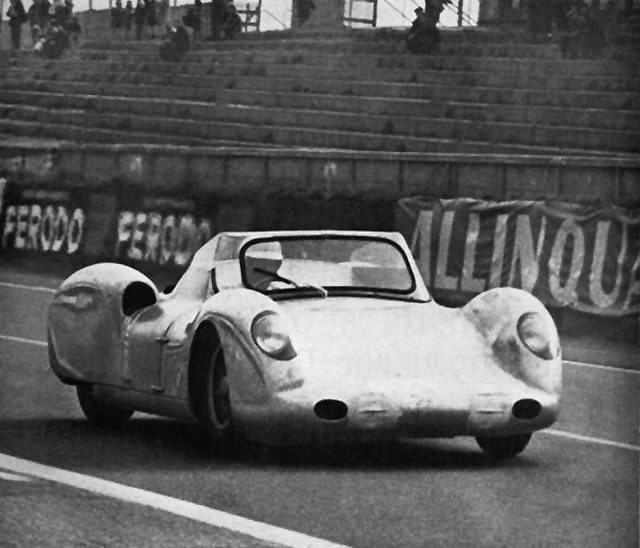 ---
The car was based on the 2.5 litre Grand Prix BRM chassis, cut in half down the middle and widened to make a two seater. At Le Mans that April, the car ran well though they discovered that body let water in just about everywhere and that the rear end had a tendency to lift at high speed!
03-Mar-23 historicracing.com
Driven by Richie Ginter and Graham Hill, they reached speeds of over 175 kph on the Mulsanne Straight. A larger engine was fitted for the race but as it was running as an experimental car and thus not is an official class, it was assigned the number 00.




'00' was flagged off separately after the rest of the field had left via the traditional start. Graham Hill and Richie Ginther covered 2582.96 miles at an average of 107.84 mph. The car's fastest lap of 113.62 mph, was set by Ginther. If they had been officially classified they would have finished 8th. The car was due to run at Le Mans properly in 1964 with a revised body and a pair of ceramic rotary regenerators to improve the efficiency of the gas turbine. However the car was slightly damaged during transport and for that or for other reasons that are not clear, the team withdrew.

It did finally race in 1965 with Graham Hill and Jackie Stewart at the controls, entered in the 2 litre class. They finished the race but it was not without incident. Early on some dirt was sucked into the engine damaging the turbine blades.



Rover BRM (Graham Hill / Jackie Stewart) at 24h Le Mans. Photo credit Owen Racing Organization

The engine started to overheat and had to be carefully monitored to keep the exhaust gas temperature within operating guidelines. Then some hours later, while Stewart was driving, the tip of a turbine blade broke off and damaged one of the regenerators with a massive bang. However the engine kept running and they managed to averaged 98.88 mph to finish 10th overall, third in class and 9th in the Index of Thermal Efficiency. The addition of a heat exchanger helped the car to cover 2,370.7 miles in the 24 hours for the consumption of 176.5 gallons of paraffin, equivalent to 13.52 mpg.