We like a bit of analogue testing!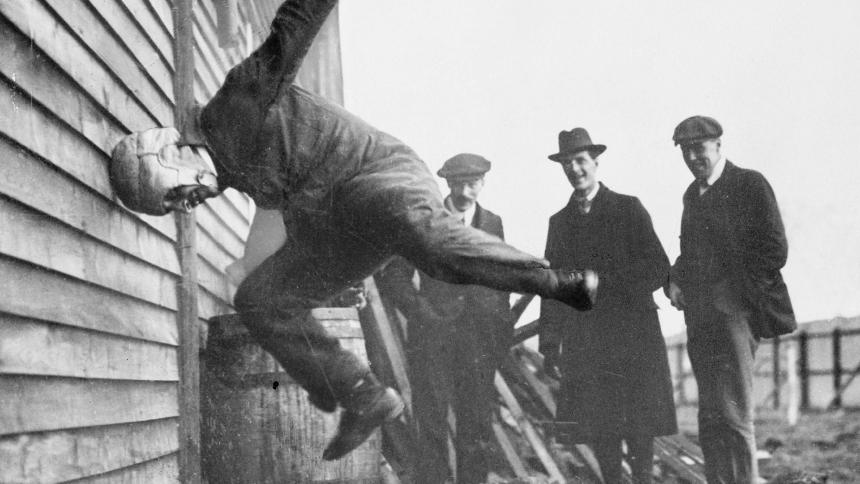 ---
Here we find part time inventor, Mr W.T. Warren in 1912, demonstrating his 'Warren Safety Helmet' at William Ewen's flying school in Hendon near London.
10-Mar-23 historicracing.com
The wall that is taking a 'Glasgow Kiss' from Mr Warren, belongs to one of the hangers of the flying school.

The leather cap presented by Warren was made of leather and cork, padded with horsehair and equipped with a system of steel springs to cushion any impact, thus reducing the risk of injury. Head injuries being the leading cause of death in flying accidents at the time. These helmets became standard issue for the RAF between 1920 and 1924.

Post war some drivers turned to American Football headgear, however this was still leather based. Hard-shell helmets were used in motorcycle racing during the 1930s but it was not until 1952 that proper crash helmets became compulsory for Formula One drivers. Interestingly it wasn't until 1972 that seatbelts became compulsory in Formula One cars.

Further research turned up an interesting post on primotipo.com (An excellent site and highly recommended) featuring Jack Phillips and Ted Parsons suitably attired in their Warren Safety Helmets, which they started wearing in 1935.



Here we see them wearing their distinctive white pained Warren helmets after winning at Wirlinga in 1938 (photo by J Dallinger)