Robin Hanson
9/3/1908 - 27/9/1991
Record updated 09-Mar-23
C. Robert Lewis 'Robin' Hanson was a British racing driver who was not particularly quick (though on further research he did post some decent times with his E.R.A.) and it was Hanson who spread oil in front of the Silver Arrows at Donington in 1938. He was a member of the BRDC and won a DFC in the RAF Volunteer reserve in 1942.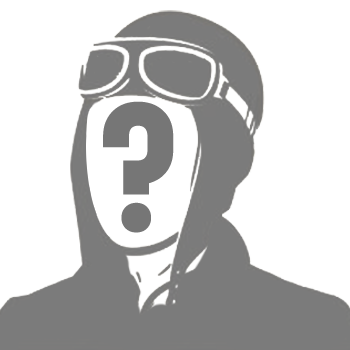 Robin Hanson was born in Grenwich in 1908. He emigrated to Canada in 1927 where he was married to Blanche Marjorie Short the following year. The marriage didn't last and he was divorced in 1934 and returned to the UK to study law at Oxford University, graduating in the Spring of 1937.

He had started racing in 1936, driving an MG Q-Type Midget entered by Mrs. Hall-Smith, his Aunt (though there is some debate over the exact relationship between them), with whom he lived. He drove one of the Dobson Maserati 6CM's that his Aunt had bought and entered for him in Voiturette races in 1937.

He did not have a remarkable season in 1937 with a third in the Coronation Trophy at Crystal Palace on the 24 April 1937, a sixth in the final of the Grand Prix de Picardie, after finishing second in the first heat, and a fourth at the Phoenix Park Grand Prix on the 11th September 1937 being the only results of any note.  At the Donnington Grand Prix he entered an ERA which he qualified in 11th place. He was the last car home some eight laps down on the winner, Bernd Rosemeyer. This rendered him 'Not Classified'.

Hanson was not particularly quick and seems to have come in for some stick from his fellow competitors as is illustrated by this excerpt from a letter from George Monkhouse to his friend Dick Seaman, at the Hotel Principe & Savoia, Milan, Italy - April 7, 1937, telling of the latest Brooklands race meeting:

The 1 1/2-litre 6-cylinder Maseratis seem to be very disappointing and did not go anything like as well as Trossi's did in the Eifelrennen. One of them belongs to a man called Hanson, who is, I believe, an Oxford undergraduate. He appeared in bright red overalls and a bright red crash hat on Easter Monday and people like Charles Martin asked him whether he was a fireman or Mephistopheles, which did not seem to please him very much. His driving of the car was quite extraordinary as he changes gear in the middle of Chronograph Corner, going extremely slowly at that!

Further endearing himself to the racing fraternity, it was Hanson who spread oil in front of the Silver Arrows at Donnington in 1938.

Also in 1938 there was a tale of how Johnny Wakefield's mechanic was apparently conned into handing over a spare cylinder head to another un-named competitor the night before the Cork Light Car Race. The mechanic had been assured that this was on Wakefield's orders. On discovering this, a furious Wakefield demanded that the other driver should be disqualified forthwith. He was eventually persuaded to withdraw the demand with the promise that the matter would be investigated after the race. An investigation was conducted, but the outcome was never made public. However, the driver concerned apparently never raced in Ireland again. The only other 6CM's in the race belonged to Herbert Berg, who died soon afterwards, Luigi Villoresi and a certain Robin Hanson.

On the 22nd October 1938 he drove an Alta at the IV Donnington Grand Prix. He qualified in 16th but went out of the race on lap 25 with engine problems.

In 1939 he took wins at both Donnington Park and Brooklands in the ERA (R6B) that his Aunt had bought for him. Hanson seems to have retired from racing upon his second marriage in late July 1939 and his joining of the RAF, as his last race was at Reims on 9th of that month,

He was a member of the BRDC and in 1942, serving RAF Volunteer reserve, during WWII was awarded the DFC for successful attacks on enemy submarines with Cata-Hurricanes. He ultimately rose to the Rank of Squadron Leader.



From the supplement to the London Gazette, 30 OCTOBER, 1942

Some time during the 1950s he returned to Canada where he worked as a pilot for Canadair. He also apparently did some writing. Robin Hanson died in Montreal.



historicracing.com

<