Giovanni de Riu
10/3/1925 - 11/12/2008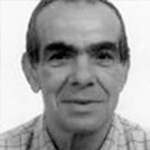 Italian driver who attempted to qualify for the Italian Grand Prix in 1954 in a privateer Maserati A6GCM/250F. Giovanni de Riu died 13 years ago, he was 83 , He would have been 96.


Giovanni was born Macomer on the island of Sardinia. His real name was actually Deriu but he is always listed as De Riu. A privateer, he was a semi-regular road racer whose racing career was relatively short. He made a couple of appearances in the Mille Miglia of no great note, before finishing last in his heat for the 1953 Albi Grand Prix and thus failing to qualify for the final.

For the 1954 season he entered a Maserati A6GCM chassis with 250F engine in five races. He retired from the non-championship Rome GP and followed this with a trip to Monza for the Italian Grand prix. He completed a few slow laps in practice and failed to make the start.

He did not appear in an international race again and eventually retiring to Milan. He became the honorary commissioner of the CSAI (Commissione Sportiva Automobilistica Italiana) responsible for national racing in Italy and in that role headed the commission which investigated Jochen Rindt's fatal accident at the Italian Grand Prix qualifying in 1970.

He died suddenly at his home in Stresa on Lake Maggiore.


historicracing.com