Giancarlo Baghetti
25/12/1934 - 27/11/1995
Record updated 03-Jan-23
Giancarlo Baghetti, arguably the first and only person to win his very first F1 World Championship Grand Prix when the Federazione Italiana Scuderie Automobilistiche acquired a new Ferrari 156 for the French Grand Prix at Reims, entering him for this World Championship event.

Giancarlo Baghetti was born on Christmas Day, 1934, in Milan, the son of a wealthy industrialist. Giancarlo's grandfather had established a very successful foundry, called Acorso Baghetti, which his father had then capitalised on during the immediate post-war years to make a substantial fortune.

Giancarlo started racing in 1956 when he entered his father's Alfa Romeo 1900 TI Sprint Veloce in the Trofeo Vigorelli at Monza and when the Automobile Club of Brescia organised an event in 1958 to replace the now banned Mille Miglia, Giancarlo and his brother thought that their father's car would again make a decent entry. Having persuaded him to lend them the Alfa to go and watch the proceedings, they worked in secret with ace Milanese tuner, Angelo Dagrada, to prepare the car for the competition.

They did well and finished second overall. Giancarlo had long harboured the idea of becoming a racing driver and this was the catalyst in him taking the next step. And so it came to pass that Marco took over the family business and Giancarlo, like so many before and since (and I have to include myself among these!) took his inheritance and blew it. A friend of his, Mario Poltronieri, a journalist who had started racing shortly before Giancarlo, was racing a Fiat Abarth at the time and put in a good word with Carlo Abarth and come 1959 Giancarlo had a factory drive in a Fiat-Abarth 750 Zagato for the Coupe de Paris in September and the Coupes du Salon in October, both at Montlhéry.

Meanwhile Angelo Dagrada had been busy designing a car for the increasingly popular Formula Junior series and Baghetti bought one for the 1960 season. Racing with the Scuderia Sant'Ambroeus he failed to qualify for the final in his first outing an ice race in Cortina d'Amprezzo however at Monza in March, he took his first single seater win. He won again at Monza in April in the 3rd round of the Italian Championship, beating Juan Manuel Bordeu who finished second.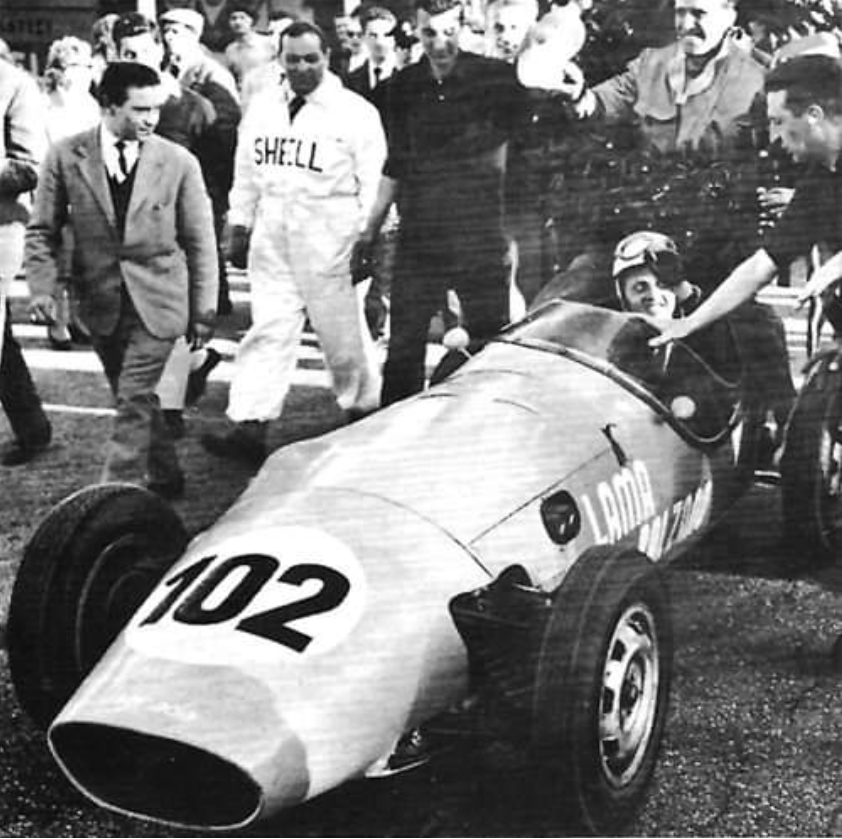 Baghetti in the Dagrada Lancia Formula Junior In May he travelled to Monaco for the Formula Junior support race to the Grand Prix by failed to qualify in a very strong field and in early June he posted a DNF in the final of the Grand Prix du Midi Pyrénés Languedoc in Albi, France, after finishing 3rd in his heat. On the 16th he was back at Monza and after a second in his heat he was 6th, but not classified, in the final. Come July he was back as a front runner finishing 2nd in the XI Prova Addestrativa at Monza and in October he won one heat but failed to finish the other in the X Prova Addestrativa. A 3rd in the Coppa Junior at the Aeroautodromo di Modena and second in the final Prova Addestrativa of the year were followed by a win in the Coppa FISA in December. That year he was part of the team that took the G Class world record with a Fiat-Abarth 1000 covering 13,441.5 Km in 72 hours.

Now the FISA was the Federazione Italiana Scuderie Automobilistiche (not the Fédération Internationale du Sport Automobile) an organisation made up of representatives from most of the major Italian teams. They were looking to give a young Italian driver to help break into Formula 1 and had agreed a deal with Ferrari whereby they would provide a Ferrari 246P (0008) to race in non-Championship Grand Prix (the 246P was the prototype for the 156). Giancarlo got the drive and on December 1 he was taken to Modena by Dragoni to meet with Enzo Ferrari.

As he hadn't driven anything more powerful that a Formula Junior, Dragoni took him to Monza and turned him loose with an 250 SWB. By the end of the session he had trimmed four seconds off the GT lap record. On the strength of this performance Enzo gave him a drive at Sebring in 1961 in a 246 SP partnered by Willy Mairesse. However they ended up driving a 3 litre TR61. Von Trips and Richie Ginther were given the 246 SP but when von Trips had an off, breaking the steering arm, he ran back to the pits and along with Richie Ginther, took over the Baghetti/Mairesse car, bringing it home in second place. The three works cars finished first, second and third, taking the team award.

Giancarlo next lined up on the grid on April 25th for the Gran Premio di Siracusa in Sicily having qualified the interim F2 car with 60º engine in second, two tenths behind pole man, Dan Guerney and ahead of Surteees, Hill, Brabham, Bonnier, Moss and a number of other top drivers. After making a mess of the start when he dropped back to seventh, by lap 6 he was in the lead, battling with the Porsches of Guerney and Bonnier, as well as the Yeoman Credit Cooper of John Surtees until he retired on lap 10. He went on to take the chequered flag on his first appearance in an F1 race.

He raced again a few weeks later all be it against much weaker opposition as the Gran Premio di Napoli at Posillipo coincided with the Grand Prix in Monaco. He once again made a mess of the start but was leading by lap 4. He had a close battle with Roy Salvadori in the Parnell Cooper until a puncture on lap 26 ended his chances. Gerry Ashmore, who had been on pole, moved up to second but despite Giancarlo spinning on lap 56 Ashmore was too far back to take advantage and Baghetti won his second race.

Meanwhile his impressive results had encouraged FISA to enter a round of the World Championship and since Olivier Gendebien was now driving the Ecurie Nationale Belge Emeryson, his yellow 60º Ferrari 156 (002) was now available. Resprayed red it was entered in the French Grand Prix at Reims-Gueux. Giancarlo qualified a respectable 12th though the other three 156 Ferraris were on the front row with Phil Hill on pole followed by von Trips and Richie Ginther. The factory Ferraris were dominant with their 65º 1500 cc V6 engines. Moss managed to qualify in 4th just over a second slower than than Ginther but this was due to getting a tow from von Tripps car for a couple of laps before the Ferrari pit woke up and realised what was happening. The three factory cars didn't even bother to go out for second practice, while Baghetti put in as many laps as possible to get to learn the circuit.

On race day it was hot enough to melt the tar on the track. At the start the three works Ferrari led away with Moss sticking doggedly to Ginther's tail using the slipstream to help match the Scuderia's pace. On the 4th lap Ginther spun and by the time Moss have got past the leading pair had broken the tow and were away. Surtees spun trying to avoid Ginther and retired with damaged suspension. Ginther recovered and was soon back on terms with Moss.

After 12 laps Phil Hill eased back to let von Tripps through into the lead and Ginther passed Moss to reclaim 3rd spot. Moss was dropping back as his brakes had gone off but intended to tuck in behind Baghetti who was in 5th and closing. On lap 20 von Tripps retired with water pouring from the V6's exhausts.

The order was now Phil Hill in the lead with Ginther second. Some way back were Baghetti in third, Clark and Ireland with Moss gainfully hanging onto the back of this group. The lead of this chasing group was changing constantly but Ireland was slowed by a carburettor problem and Clark had his goggles smashed by a stone. This still left Baghetti duelling with Gurney and Bonnier in their Porsches.




Giancarlo Baghetti battling at Reims with Jim Clark and Innes Ireland




Two thirds of the way through he race Phil Hill spun on the melting tar in the Thillois hairpin and was hit by Moss who retired. Unable to restart his engine, Hill pushed the stricken Ferrari until he could restart it on the slope leading to the pits. By now he was a lap down and things were about to get even worse for the factory when Ginther header to the pits a lap later with low oil pressure. He was ordered back out by Tavoni but half a lap later parked up with no pressure at all.

All of a sudden a very exciting race was in prospect with the lead still changing all the time but now it was for the win. With two laps to go Bonnier pitted with his engine well down on power but carried on at a reduced pace. The race was now between Guerney and Baghetti. On the last lap Baghetti led along the back straight but approaching the hairpin at Thillois, in a tactical move worthy of a far more experienced driver, he let Guerney though. He tucked into Dan's slipstream as they exited the corner and then pulled out to slip passed and take the chequered flag by a car length. Winning by 0.1 seconds.




Three races and three wins. He then entered the British Grand Prix now under the Scuderia Sant'Ambroeus banner in order to capitalise on Giancarlo's success. Unfortunately he crashed out of the race after 27 laps in the extremely wet conditions. He also failed to finish in the Italian Grand Prix though he did set the fastest lap and was running in third place when his engine broke. The race was marred by the death of von Trips and 14 spectators.

At the end of the season, the Italian drivers championship was tied between Bandini and Baghetti. So Scuderia Sant'Ambroeus organised a race when Bandini would be unable to attend! However things did not go completely to plan as the Ferrari had driven during the season was not available. They finally managed to borrow the Ecurie Nationale Suisse Porsche 718 (202) with which he won the Coppa Italia on aggregate, winning both heats and thus the Italian Drivers Title.

In 1961 he also raced sports cars, finishing a fine second at Sebring in the 12 Hour race in a works Ferrari 250 TRI partnered by Mairesse, Ginther and von Trips.




For 1962 he joined Phil Hill with the works Ferrari team along with Ricardo Rodriguez, but the other teams had caught up by now. He was 4th in the opening Grand Prix in Holland but a lap down on the leaders and there was little more to show in the way of results for the rest of the year. He missed Monaco with Bandini deputising, taking 3rd. In Belgium he went out with ignition problems though Phil Hill and Ricardo Rodriguez took third and fourth. Ferrari missed the French Grand Prix due to industrial action back home and only ran one car for Phil Hill in the British Grand Prix in July. For Germany the team ran four cars with Lorenzo Bandini joining Phil Hill, Baghetti and Ricardo Rodriguez. Hill and Bandini retired, Ricardo managed 6th and Giancarlo 10th.

In non-championship races he finished 4th in the Aintree 200 in April and second in the Gran Premio del Mediterraneo at Enna-Pergusa in August, and in sports cars he finished second in the Targa Florio with Jean Guichet.

A fifth in the Italian Grand Prix proved his last race for the Ferrari F1 team before making the mistake of joining ATS for 1963. In five Grand Prix he only finished once, coming home 15th in Italy.

1964 saw him at Scuderia Centro Sud driving their aging BRM P57. Six races did see just one retirement but his best result was only a 7th in Austria. Over the next three years he made one-off appearances at the Italian Grand Prix, retiring twice and failing to qualify on the other occasion. Thus his Grand prix career which started in spectacular fashion drew to an inauspicious end.




Sebring 1965 and the Ferrari 275P of Baghetti and UmbertoMaglioi leads the class winning Alfa Romeo TZ of Rolland and Consten He continued to race driving for Alfa Romeo and Fiat-Abarth in the European Touring Car Championship, winning the 1000cc Class title in 1966. He also occasionally drove in F3 with Escuderia Argentina Automondo driving a Branca and a Brabham BT15 and with Tecno. After a number of poor results he won the F3 Coppa dell'Autodromo di Monza in 1967 with a Branca Ford/Novamoto. It was another race marred by a fatality when Boley Pittard's Lola became engulfed in flames as the cars moved off the line. He steered the car off the track but sustained severe burns and died six days later.

He made six appearances at Le Mans but never managed to finish, his last coming in 1968 when he drove an Alfa Romeo T33/2 with Vaccarella. In June that year Baghetti was involved in a massive pile-up on the 23rd lap of the Gran Premio della Lotteria di Monza Formula Two race at Monza driving a Ferrari Dino 166 V6 and decided that he was going to call it a day.

At the end of the year he entered the first London-Sydney Marathon driving a Lancia Fulvia Coupé 1600 with fellow F1 driver Giorgio Bassi who had been at Scuderia Centro Sud with him in 1965. Unfortunately he had to withdraw when they lost their papers while travelling through Afghanistan. Amongst them was the car's road book which was required by organisers to continue in the rally. Baghetti drove back to the service station where he thought the documents might have been left, but although he found his passport, the road book was not recovered. He continued on to Bombay and returned to Italy.

He retired at the end of the season and spent the next two years sailing. With money running low he took up photography and went to work for Playboy in Italy. Following that he became a director of a new weekly magazine called Auto Oggi.

Often regarded as the only driver to win his first World Championship Grand Prix, he is technically joined by two others; Nino Farina who won the very first round of the very first World Championship in 1950 (whoever won that race would have won his first ever World Championship Grand Prix) and Johnnie Parsons who won the Indy 500 that same year at a time when it was included as a round of the World Championship.

Giancarlo Baghetti died of cancer in 1995.

historicracing.com

<