Christian Heins
16/1/1935 - 15/6/1963
Record updated 16-Jan-23
Christian Heins was one of best Brazilian drivers of his era. He was killed at Le Mans driving an Alpine M63 Renault.

Christian Heins WAS born in the Brooklin Quater of São Paulo, Brazil, the son of a successful German businessman, Carl Heinrich Christian Heins, and his Italian wife, Giuliana de Fiori Heins. His maternal grandparents lived nearby. His maternal grandfather, a famous doctor, lived nearbye and it was in his cars that Christian, while still a child, satarted getting a taste for mechanics and learnt to drive in his Ford Anglia.

He

studied at the Colegio Visconde de Porto Seguro, between Rio de Janeiro and Salvador da Bahia. When he graduated in 1953 he went to stay in Stuttgart where he attended the Technische Hochschulean (Institute of Technology) and also took an engineering course, specially for foreigners, at Mercedes Benz before going to work for a short time for Mahle (also in Stuttgart).

With help and encouragement from Victor Losacco (who was influential in the development of many young Brazilian racers), he made a successful debut taking a class win in a Porsche 356 at Interlagos on May 16th 1954 at the age of 19 which was, at the time, considered to be very young. He took another class win in the Campeonato Paulista at Interlagos with the 356 in August but posted a DNF at the end of the year in the 100 Milhas do IV Centenário, once again at Interlagos.

Now Brazilians love nicknames (just look at their footballers) and Christian was dubbed Cometa (Comet) due to his speed but it soon changed, partly due to his age and partly to his Italian heritage, to 'Bambino', which was duly shortened to 'Bino'.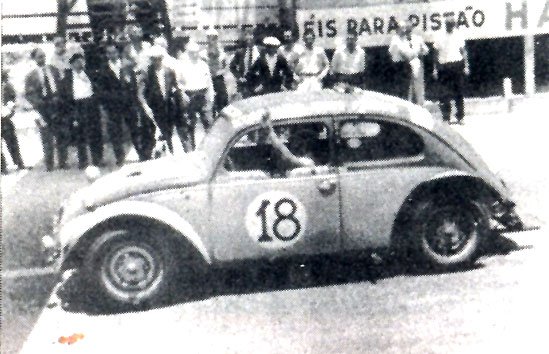 He only made one appearance late in 1955 failing to finish in the Prova Prefeitura de São Paulo driving the ex-Hans Stuck Porsche 550RS that Stuck had brought to Brazil. Now armed with the 550RS he raced more frequently in 1956. In June he came 5th overall and second in class in the 2 Horas de Velocidade 7º Aniversário do Centauro and 6th overall and second in class again in the I Prêmio Benedicto Lopes with the 356 in August. In September he finished 5th with the Prova do 49° Aniversário do ACB with the 550 and in November had his best result up to that point with a second overall in the I Mil Milhas Brasileiras driving a Jorge Lettry prepared Porsche powered VW with Eugenio Martinez. It was a remarkable result against much more powerful opposition, having led for much of the race.



On his way to second in class in the 2 Horas de Velocidade.

Up until now he had only raced at Interlagos but at the beginning of 1957 he raced a Scuderia Madunina Brazil entered 550RS with Ciro Cayres in the 1000 km Buenos Aires at the Circuito de la Costanera Norte de Buenos Aires, round one of the F.I.A. World Sports Car Championship. It was his first real taste of international competition, however it ended before half distance with gearbox failure. He also raced in Europe for the first time driving in the Reims 12 hour race in July with Carel de Beaufort but retiring with engine problems.

In 1958 he moved to Europe and naturally settled in Germany. He was due to share a Porsche 356A Carrera with Hans Harzheim in the 1000 km race at the Nürburgring in June but they were a DNS so it wasn't until early July that he had his first taste of competition in the Bolzano-Mendola hill climb, a 14.4 km course rising 952 metres. It had been won by the likes of Castellotti and Cabianca so one can imagine the surprise when an unknown Brazilian took the win. He followed this with another win, this time in the 10 Hour race at Messina in Sicily, sharing a Porsche 550 with Paul Strähle. After winning the Giro delle Calabria in August he received an invitation to partner Carel Godin De Beaufort in a works Porsche 550A RS 1500 in Tourist Trophy at Goodwood. They came home 8th overall and second in class behind Jean Behra and Edgar Barth in the works Porsche 718 RSK. In the Grand Prix von Berlin at Avus he finished 10th before returning to Brazil where he took a class win at Interlagos at the end of November.



Bino having an off day at Spa.

He continued to race Porsche in 1959 but crashed out spectacularly in the Grand Prix at Spa-Francorchamps in May. He made his debut at Le Mans with Carel Godin de Beaufort in the latter's Porsche 718RSK but retired. He also drove a number of other cars including a Formula Junior Stanguellini to second place in the Gran Premio di Messina at Lake Ganzirri behind fellow Brazilian, Fritz d'Orey. He raced again later the same day finishing 5th in a Porsche 550RS. He had a number of other F.J. outings in Europe before competing in the IV Mil Milhas Brasileiras in a DKW.

Aside from the crash at Spa he had had another accident at the Nürburgring and at the end of the year decided to stay in Brazil initially racing for the Serva Ribeiro team, one of the main Vemag dealers (Vemag manufactured DKWs under licence in São Paulo). On his return his trophies were impounded by Customs as he didn't have a 'Bill of Sale'. His sister, Ornella contacted the president, Juscelino Kubitschek, who immediately sent a telegram to the Customs officials demanding that the trophies were returned and asking for an explanation why a 'National Treasure' had been treated in this way. Only Pelé and Maria Ester Bueno were considered in the same way.



Bino with the Vemag-DKW

He had a number of good results in Brazil in 1960 with the Vemag-DKW including two class wins and a class second in three races on the same day during the Inauguração de Brasília meeting in April and a second in class in the 24 Horas de Interlagos. However his best result was winning the Mil Milhas Brasileiras at Interlagos. He had originally been due to drive the Vemag-DKW with Eugenio Martinez for his friend Jorge Lettry, who was now running the Vemag competition department. However Bino and Jorge had a falling out during practice. Jorge had the whole team in full uniform and took command with Neubauerseque precision, giving signals to the drivers to tell them when they should get into the car, when to start the engine and so on. After a morning of this, Bino started to make fun of Lettry, imitating his signals and gestures. They had a heated argument after which Bino 'walked'. It tuned out to be a fortunate thing as, having walked out of the Vemag drive he joined Chico Landi and together they drove the Brazilian made FNM JK/2000 to a famous and hugely popular victory.

That historic victory by a Brazilian made FNM JK had shown that Brazilian made cars could indeed beat the Americans. The FNM went on to win many other long distance races between 1960 and 1962. Suddenly, long distance races became more popular than sprints.

Christian took on the role of manager of the competition department of the Willys team. The FNM went on to win a number of other long distance races including the 1961 24 h Interlagos with Christian once again driving with Chico Landi while the Willys team, under the guidance of Bino, introduced the Interlagos, which was in reality an Alpine A108 built under licence in Brazil.

The Interlagos was soon winning everything in sight, until Simca, tired of being beaten, brought 3 Simca Abarth 2 liters to Brazil. Ford took over Willys, which showed some interest in racing, fielding Bino prototypes in the 67 and 68 seasons, while Chrysler took over Simca, and VW, took over Vemag, both teams being closed.







In 1963 he was still heading up the Willys Team in Brazil. He received an invitation from Jean Redelé to race an Alpine Renault M63, equipped with a 996 cc engine, at Le Mans. The car was painted in green and yellow and bore the name Team Interlagos - Alpine. On the 8th of June he left for Europe with his wife with plans to stay on after the race for a fifteen day vacation before returning to Brazil.

All went according to plan at the start and about 5 hours into the race Christian and Jose Rosinski were leading their class. But things were about to go horribly wrong. Just past 8 PM the engine of Bruce McLaren's Aston Martin let go distributing a generous quantity of oil in the fast corner just after Hunaudières. First to hit the oil was Roy Salvadori in the Briggs Cunningham entered Lightweight Jaguar E-Type. Salvadori lost control, briefly regained it but then ran onto the grass and spun. He hit the bank backwards and, with his seatbelt undone as he had been having problems with it, he was ejected though the rear Perspex window onto the back. The car caught fire but was quickly extinguished and Roy survived miraculously with just cuts and heavy bruising. Next to arrive at the scene was 'Franc' (Jacques Dewes) in the Aston-Martin DB4 GTZ. He spun but managed to avoid hitting anything though the René Bonnet Aérodjet LM6 of Jean-Pierre Manzon crashed whilst trying to avoid him. Manzon was thrown out when his car rolled leaving the hapless Bino with few options. In avoiding Manzon, who was lying on the track, he hit the oil and spun, hitting the LM6 and a lamp-post. The Alpine-Renault burst into flames with Christian trapped inside. The fire-fighters struggled with the fire out as they tried to get Bino out of the car. He was taken to hospital but was declared dead on arrival. A post mortem revealed that he had probably died almost instantly from head injuries.





His body was transported to Brazil and buried on the 27th of June in the cemetary of the Redentor in São Paulo. Christian Heins was one of best Brazilian drivers.

Without having the opportunities that Emerson Fittipaldi had, he achieved fame in Brazil and around the world.



Christian Fittipaldi, Wilson Fittipaldi's son was named after him.

Translated from the work of Pablo Robert Peralta

<