Bob Wollek

4/11/1943 - 16/3/2001
Record updated 16-Mar-23
A sports car legend, Bob Wollek's career spanned over 30 years. Four-time winner at Daytona's 24-hour race and with 11 world championship titles, Wollek continued racing well into his 50s when he was killed while riding his bicycle outside Sebring on the eve of the 12 Hour Race in 2001.

Bob Wollek was a legend of the sports car scene, as much because of his longevity as his success in a career spanning over 30 years. Four-time winner at Daytona's 24-hour race with 11 world championship titles, Wollek continued his racing career well into his 50s with much success coming after his 40th year.

He was born in Strasbourg in the Alsace region in 1943, while it was still part of Germany. His parents ran a Mercedes garage there.

He was a tallented skiier and he might have taken that route to sporting fame. He was a member of the French National Skiing Team between 1966 and 1968 winning three gold medals in 1966 in Sestriere, Italy, at the World University Championships, taking the Downhill, Giant Slalom and the Combined titles and also also silver in the Slalom. However during the selection trials for the 1968 Olympics Winter Games at Grenoble he suffered an accident that ending his skiing career.

He had already tried his hand at motor sport, making his debut in the summer of 1967 driving a Renault 8 Gordini in the Rallye du Mont-Blanc, where he took a class win. He finished 2nd to François Migault in Volant Shell Competition on the Bugatti circuit at Le Mans and then won the Alpine Trophy there, the prize being a drive at the 24 Hour race. Thus he made his first start at the Sarthe in 1968 driving a Renault Alpine A210 with Christian Ethuin to 11th. Later, he raced in F2 in a team managed by a guy named, Ron Dennis.

Bob, like many others, had his eyes on a single seater career and, in 1969, he made his debut in single seaters competing in Formula France. He graduated to the French Formula Three Championship in 1970 with a Brabham BT28. Still aiming at a drive in F1, Wollek switched to Formula Two in 1971 driving for Ron Dennis's Rondel Racing Team. After a disappointing season that year, he took a win at Imola in 1972 and finished the year with 21 points and seventh in the Championship. However by then Bob had decided that F1 was not going to be his thing and he quit single seater racing to concentrate on sportscar events.

Told by Tom Walkinshaw of TWR that he was too old to be considered for a LeMans drive in 1991, Wollek proved his point by finishing 3rd in that very race and was a genuine contender in every race between 1994 and 1998.



Bob Wollek in 1978 at Le Mans with the Porsche 936

He saw no reason to retire and with performances to rival the up and coming stars, he was always given the chance to race. He claimed that he hadn't reached his peak until he was into his 40's because he had only become a full-time driver in 1996, always having seen the sport as a game and not a career. His peak came in the era of the mighty Group C cars when he drove a Porsche 956 and 962 matching pace with the big names such as Jacky Ickx. Many wins followed but never the elusive LeMans crown.

Wollek's bad luck at la Sarthe became the stuff of legend, driving a factory Porsche 962 for three years on the trot without a single finish. His final chance at overall honours came in the 1998 race in Porshe's 911 GT1. A mistake by his team-mate had cost him the top step of the podium and as he climbed up to take the second place trophy, his tears suggested he was more bothered by never winning the event than he claimed.

In 30 appearances at Le Mans, that well deserved outright victory cruely avaded him. Never the less his record of finishing four times in second and twice in third along with four class wins and six class podiums is a record few can match.

It was only after he was withdrawn from the Porsche team line up after the 1998 event that Bob Wollek knew his dream of taking overall victory at Le Mans would never happen, and though he took the podium once more, his GT class victory for the Dick Barbour team was stripped for technical infringement. Even at that time, Wollek was fighting with the best and had team boss Tony Dowe marvelling at the speed and consistency with which he lapped the track at la Sarthe. His continued presence at races was down to his complete love of the sport and everything involved with it.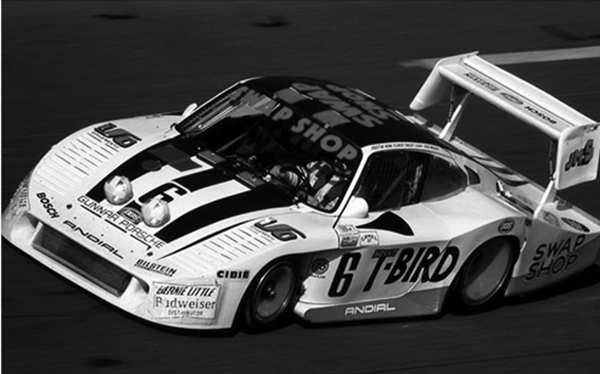 Preston Henn's 'Moby-Dick' Porsche 935 winning Daytona in 1983 with Bob Wollek, Ballot-Lena, A.J.Foyt and Henn driving

At Daytona he took outright wins in 1983, 1985, 1989 and 1991 plus the 12 Hours at Sebring in 1985. He won the German Group 5 Championship in 1978, 1982 and 1983.

Wollek continued to race mainly for the love of the sport. He was supremely fit and every year he cycled from his home in Strasbourg to Le Mans with his wife Michelle. In 2000 to show that he was still more than capable, he took five class wins in the American Le Mans Series driving for Dick Barbour in a Porsche 911 GT3-R.

But on Friday March 16th 2001 at 4:30 in the afternoon after the practice session, he was cycling back to his hotel when he was from hit from behind by 82 year old John Rashley, driving a van. He was taken to Highlands Regional Medical Center where he was pronounced dead on arrival. Rashley was banned from ever driving again.

historicracing.com

<