Lorenzo Bandini
21/12/1935 - 10/5/1967
Record updated 20-Dec-22
Italian Formula One driver who won the 1964 Austrian Grand Prix. In sports cars he won Le Mans (1963), the Targa Florio (1965) and the Daytona 24 Hour race (1967). He was killed in the Monaco Grand Prix in 1967 after rolling his Ferrari at the chicane while chasing Denny Hulme for the lead.

Lorenzo Bandini was born in Barce, Cyrenaica, North Africa, where his family had moved when Italy was expanding it's empire under Mussolini. His father had made a small fortune managing an agricultural machinery business in Bengasi but, with the war in Europe imminent, he moved the family back to Italy. Then in 1944, towards the end of the war, his father was abducted and murdered.

It was a hard time for the Bandini family who moved to Reggiolo, Reggio Emilia. At the age of 13, Lorenzo went out to work as an apprentice in a motorcycle shop belonging by Elico Millenotti and in 1950 he moved to Milan to work in the workshops of Goliardo Freddi in the via Plinio. It was a fortuitous move as Goliardo was a racing enthusiast and encouraged and advised the young Bandini.

He started racing in 1956 in Goliardo's Fiat 1100TV finishing 15th in the Castell'Arquato-Vernasca hillclimb. He continued competing in hillclimbs with a 2 litre Fiat and in 1956 he won his class in the Lessolo-Alice hillclimb. In 1958 he scored an impressive class win in the Mille Miglia driving another of Signor Freddi's cars, a Lancia Appia Zagato

However to progress he knew that he needed to be in single seaters and with the advent of Formula Junior he made the transition firstly with a Volpini and then a Strangellini. Front engined and not the most competitive cars, Lorenzo none the less less took a number of wins including the Liberty Grand Prix in Cuba and the Pescara Grand Prix, both in 1960.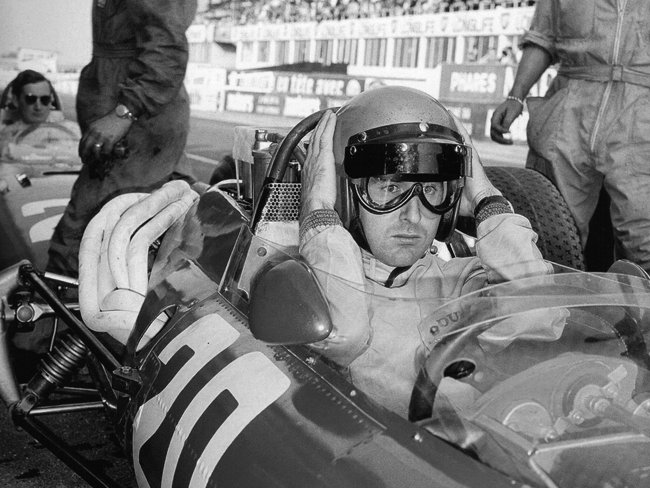 At the French Grand Prix in 1966 having just taken over as team leader. Behind is Mike Parkes making his F1 debut.

His performances were enough to bring him to the attention of Ferrari who considered him for a drive in 1961 but chose Giancarlo Baghetti instead. He made his F1 debut in April that year finishing a fine third, behind Jim Clark and Jo Bonnier, in the non-championship race at Pau driving one of Gugliemo Dei's Scuderia Centro Sud T53 Cooper-Maserati. After a couple more non-championship races at Siracusa (7th) and Napoli (3rd), he made his World Championship debut at the Belgian Grand Prix at Spa-Francorchamps in June 18th, retiring when a big end bearing failed. At the British Grand Prix at Aintree he came 12th and in Germany at the Nürburgring he retired with engine failure again. he also raced in the Italian Grand Prix in September finishing 8th. In sports cars he took a win in the Pescara Four Hour race driving a Ferrari 250TR with Giorgio Scarlatti.

Ferrari stepped in for 1962 and though he mainly drove sports cars, he did competed in three F1 World Championship races, coming third in Monaco. In sports cars he finished second in the Targa Florio driving with Baghetti. He also beat Baghetti to win the non-championship F1 Mediterranean GP at Pergusa, Sicily at the end of the season.

In 1963 He was dropped form F1 by Ferrari at the start of 1963 in favour of Willy Mairesse, however Mimmo Dei stepping again to offer him a drive in the 1.5 Litre BRM P57. He was 10th in France, 5th in the British Grand Prix at Silverstone and retired in Germany, having qualified on the front row, when he spun out on the first lap unfortunately taking Innes Ireland with him. In non-championship races he finished 3rd in the Mediterranean GP at Pergusa, Sicily.

In sports cars he finished second at Sebring with Willy Mairesse and Nino Vaccarella in a Ferrari 250P. He was second in the Targa Florio in the Dino 196SP and took the win at Le Mans in the 250P sharing the driving with Ludovico Scarfiotti. He also won the 3 Hour Trophée d'Auvergne at Clermond-Ferrand in a privately entered Ferrari 250.

Mid season, after Willy Mairesse suffered a career ending crash in the German Grand Prix, Ferrari invited him back into the F1 team to partner John Surtees. He retired in Italy, finished 5th in the USA, though he was 4 laps down on the winner, Graham Hill, and in Mexico he retired once again. The teams then headed to South Africa and in the non-championship Rand Grand Prix at Kyalami he finished second behind Surtees before coming home 5th in the season ending South African Grand Prix at East London.

Away from the circuits he was now managing Goliardo Freddi's workshop in Milan and later in 1963 he married his daughter, Margherita.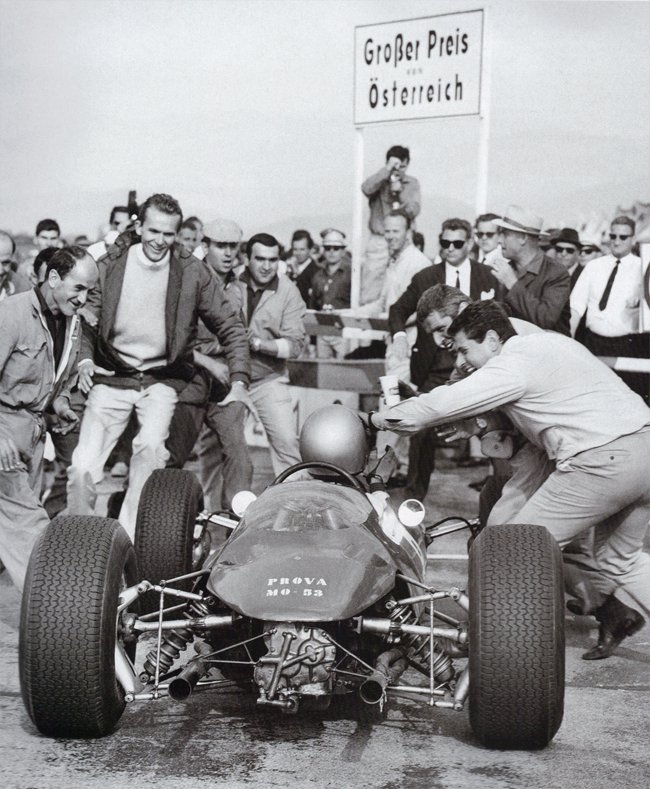 Bandini's one and only F1 win in Austria in 1964.

Bandini was to stay with Ferrari for the rest of his career and in 1964 after a slightly disappointing start to the F1 season, he finished fifth in the British Grand Prix and followed that with third in Germany and his maiden F1 win in Austria at Zeltweg. In Italy he finished 3rd and in the final race of the year in Mexico he let John Surtees through into second to take the title and become the first person to take the World Championship on two and four wheels.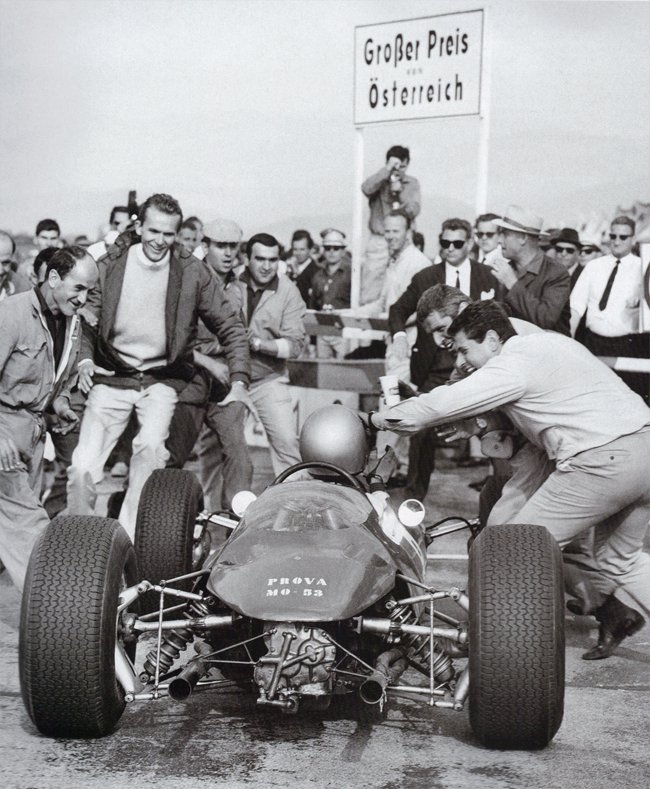 Monaco in 1965, Bandini, on his way to second place, leads Surtees with Bruce McLaren's Cooper in the Ferrari sandwich.

In 1965 Ferrari's Formula One cars were less competitive. Bandini managed a 2nd in Monaco and a pair of fourths late in the season in Italy and the USA while Surtees took a second , two thirds and a fourth. Surtees ran his own Lola T70 in Can-Am racing that year and in September he was practicing for the race at Mosport Park, Canada, when a front upright casting broke. He crashed heavily sustaining potentially life threatening injuries. he thus missed the final two races of the season. Once again in sports cars Bandini was impressive winning the Targa Florio.

At the start of 1966 Surtees retired in Monaco after leading and then scored one of his best wins in the rain at Spa. However Surtees had reputation for being argumentative and cantankerous and there had been ongoing friction between himself and team manager, Eugenio Dragoni, since 1963. At Le Mans that year he was due to drive with Mike Parkes but Dragoni had put him with Ludovico Scarfiotti. Surtees was not happy and walked out never to drive for the Scuderia again. This brought Bandini into the roll of team leader. He had finished second in Monaco, third at Spa and was on pole in Monaco. However his throttle linkage broke and he had to retire. Ferrari did not travel to the British Grand prix due to a strike of metalworkers in Italy. In Holland he score a point for 6th, a placing he repeated in the next round in Germany. it was the last time he finished a Grand Prix. He retired in Italy and America and the team chose not to race in Mexico.

Ferrari were also not on the grid for the first race of 1967 at Kyalami in South Africa in early January. At Daytona in February he partnered Chris Amon for the 24 Hour race in a Ferrari P3/4 spyder. They took the win by four laps from the Parks/Scarfiotti Ferrari 330 P4 and the NART Ferrari 412P or Pedro Rodriguez and Jean Guichet. The three cars crossing the line in formation.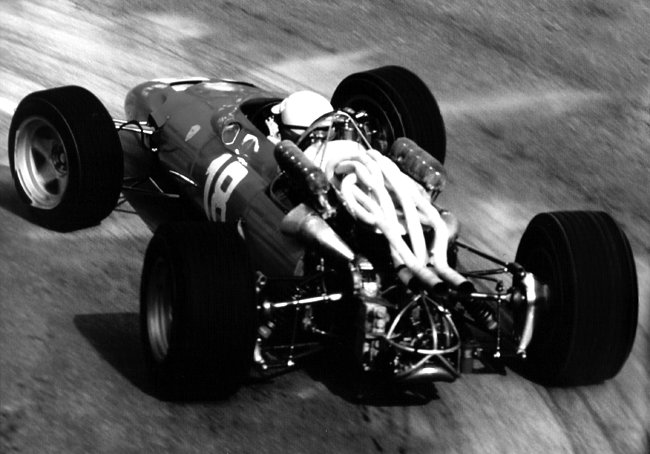 The fateful Monaco Grand Prix in 1967 just a few laps before his accident.

For the second round of the F1 World Championship at Monaco in May, Bandini put his Ferrari on the front row of the grid alongside Jack Brabham on pole. At the start Bandini took the lead and Brabham's Repco engine blew up. Both Dennis Hulme and Jackie Stewart managed to get ahead of Bandini but Stewart dropped out leaving Bandini in second. By about three quarter distance, Bandini started to close in on Hulme but on lap 82 Bandini lost control of his Ferrari 312 at the harbour chicane and crashed. the car rolled and came to rest upside down with the hapless Bandini trapped inside. Fire broke out and though the marshals extinguished it pretty quickly he was unconscious and suffering from severe chest injuries and 3rd degree burns when they pulled him from the car. He was taken by boat to the Princess Grace Polyclinic Hospital where he succumbed three days later without regaining consciousness. He had been due to try and qualify a Gerhardt-Ford for the Indy 500 just 6 days after the Grand Prix.

Bandini was buried in Reggiolo on May 13th, over 100,000 people attended the funeral.

Since his death the Lorenzo Bandini Trophy has been presented annually at a ceremony in the Town Hall of Brisighella, Bandini's home town near Imola, to the most promising newcomer in Formula One.

historicracing.com

<